The Guardian is an electronic power conditioner that provides power protection for POS systems and other mission critical equipment.
Your Point Of Sales
If you own or work with retail and restaurant operations, then you know how important it is to have point of sales (POS) equipment that stands the test of time. POS systems are critical for daily operations and for the overall efficiency of your business, by completing swift transactions and interacting with your customers fluently. Any kink in the system can lead to the loss of revenue, or even worse, a loss of customers. So what are you supposed to do when you have power issues?
Voltage spikes are some of the most common sources of system failures in businesses, shutting down your ability to use phones and other types of electronic systems upon which you rely heavily. You should not have to go day to day worrying what could happen with your power and what you will have as your backup system saver if it does.
Protection Where It Counts
Smart Power Systems offers our Guardian for complete power protection with comprehensive solutions for your business. The Smart Power Systems' electronic conditioners help to protect your POS system and all your equipment from surges. They also work to prevent spikes and eliminates line noise that creates complications.
Using TBF™ technology to deliver unparalleled performance, you never have to worry again when it comes to your power protection. Whether you experience a minor or major power spike, our Guardian system will protect your business and keep your bottom line safe.
For more information about what our Guardian can do for you, contact us today.
Why power protection is critical for a POS system:
• Reduce unnecessary service calls due to power issues
• Eliminate downtime due to power problems
• Protect your investment by reducing the need to repair or replace equipment
Voltage spikes are one of the main causes of system failures and cause thousands of service calls annually on all types of electronic systems — resulting in service calls that are avoidable. Smart Power Systems' TBF™ technology delivers unparalleled performance for protection against minor and severe spikes and surges that comprise more than 80 percent of power problems. Our Guardian products are rated 15 amps and protect systems requiring 120 volts.
Features
The Features of our Guardian electronic power conditioner:
High voltage surge and lightning protection – Stops dangerous surges from damaging your POS terminals and other microprocessor-based electronics.
Low voltage spike and noise protection in common mode area – (US Patent#6229682) Filters down to 0.5 volts and stops disruptions of electronics.

Prolonged Overvoltage Protector™ – (US Patent #6560086) Protects connected equipment against destructive overvoltage.
Identifies bad wiring – (US Patent #5721661) Exclusive Smart Technology protects connected equipment against reverse polarity or no ground, making the Guardian fail-safe.
Smart ground technology for ground loop protection – (Patent pending) Ground loops can cause data errors, component failures, and safety hazards.
Network RJ45 protection
Phone line RJ11 protection
Benefits and Performance Factors
Benefits
Smart Power Systems' TBF™ technology eliminates power issues that cause disruption, degradation, and destruction to electronic equipment. Benefits include enhanced operation, reduced downtime, and extended operating life.
Performance factors
• Common-mode noise filtering
• Normal-mode noise filtering
• Faulty wiring detection
• Surge protection
• Prolonged overvoltage protection
• Correct harmonic distortions (model dependent)
• Compatible with GFCI circuit
Specifications
Model: Guardian
Input/output: 120V
Output current: 15 amp
Output receptacle: Two 5-15R
Input cord and plug: 5-15P – 6 feet
Color: Black
Frequency: 50/60Hz
Response time: Instant
Efficiency: 99%
Transient let through voltage (common mode) (N-G): <0.5V
Transient let through voltage (normal mode) (L-N): <10V
Size (H x W x D) (Inches): 6.15 x 4.5 x 1.75
Net weight (Lbs.): 2.05
Warranty: Lifetime
Safety: UL 1449 3rd edition, UL 991, UL1283
• Tested under IEEE C62.41 Cat.A & B Ring wave
• Different models are available for 120V, 208V, 15 amp, or 20 amp
• Specifications subject to change without notice
Applications
Available in Wall Mount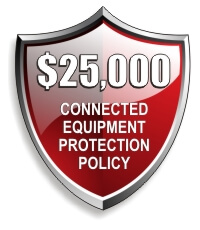 At Smart Power Systems, we stand behind the quality and reliability of our power protection products. That is why we offer comprehensive $25,000 Connected Equipment Protection Policy. If the Smart Power Systems equipment fails and this failure allows a surge to pass through and damage the connected equipment, Smart Power Systems will pay for the repair or replacement of the connected equipment in accordance to Connected Equipment Protection Policy.