Smart Power Systems offers the revolutionary SmartNet II to provide protection
for data line and signal for phones, networks, TVs, and security systems
Lightning surges and spikes can sneak into the data line of today's networked environment and damage the electronic equipment; whether through the computer network, or entertainment and security systems signal line. For data and signal protection, the SmartNet II is necessary for today's electronic equipment.

Since ground connection is necessary for optimum protection and performance, SmartNet II – unlike other products on the market – is simple to connect to the ground by just plugging it into the power outlet (patent pending). No tools are necessary.
• Easy installation with connection to ground
• Stand-alone data line and signal protection
• Protects electronic equipment against surges that come through the telephone and data line
• Noticeably increases download speed (up to 200%)
• For T1, T3, 10/100/1000 Based-T, ISDN, DSL, etc.
• Handles data lines with speeds of over 300MHz
• All units come with the necessary patch cables, except on the coaxial and BNC models
• Lifetime warranty
SmartNet II eliminates power issues that come through the telephone and data line telephone and data line. Benefits include faster download speeds, enhanced operation, and extended operating life.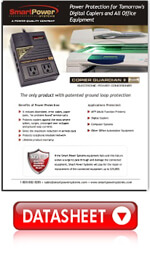 Model: SmartNet II
Color: Black
Size (Model A): 1.37 x 1.31 x 3.31 (H x W x D) (Inches)
Size (Model C): 2.12 x 1.31 x 3.06 (H x W x D) (Inches)
Net weight (Model A): 0.11 lbs.
Net weight (Model C) 0.16 lbs.
Warranty: Lifetime
Safety: UL 1449 3rd edition, UL 991, UL1283
• Specifications subject to change without notice
Model Comparison