Automatic voltage regulator provides clean and consistent power for ATMs, digital copiers, and mailing systems
Why use an automatic voltage regulator?
Electronic systems are designed to operate based on a clean and constant supply of AC voltage. The AVR Plus provides voltage boost and buck capability to eliminate power problems created by under-voltage or over-voltage fluctuations. It also protects against minor and severe spikes and surges that comprise over 80% of power problems.
Our automatic voltage regulators are ideal for products that require consistent voltage levels like automatic teller machines (ATMs), wide format digital copiers, and mailing systems.
The AVR Plus eliminates downtime due to:
• Intermittent rebooting
• Component overheating or degradation
• Error codes
Features
• Voltage boost and buck
• Common mode noise filtering
• Normal mode noise filtering
• Over voltage protection
Benefits
Smart Power Systems' AVR line eliminates intermittent rebooting, component overheating and degradation and error codes caused by voltage swells and sags. Benefits include enhanced operation, reduction in downtime and extended operating life.
SPECIFICATIONS
MODEL

AVR10-120TBF

AVR15-120TBF

AVR20-120TBF

AVR20-230TBF Plus

AVR20-240TBF

Capacity (Amps)

10

15

20

Input Voltage Range (VAC) / 50/60Hz

120±21%

99-145

99-128

198-252

240+18%-12%

Output Voltage Regulation (VAC)

120±8.5%

120±6.5%

230±3.9%

240±4%

Over Voltage Protection – Disconnects the output when exceeds: (VAC)

140-145

248-252

260-265

Spike Transient Let Through Voltage
(Common Mode) (N-G)

<0.5V

<5% of input surge voltage

Spike Transient Let Through Voltage
(Normal Mode) (L-N)

<10V

Input Plug

5-15P

5-20P

6-20P

Receptacles

Two 5-15R

Two 5-20R

Two 6-20R

Dimensions Inches (mm) DxWxH

7.9 x 5.4 x 4.5 (200 x 137 x 115)

13 x 5.5 x 6.6 (330 x 140 x 168)

Net Weight (Lbs./Kgs.)

10 / 4.5

14.7 / 6.7

16.5 / 7.5

18.5 / 8.5

18 / 8.2

Shipping Weight (Lbs./Kgs.)

10.75 / 4.9

16.2 / 7.4

18 / 8.2

20 / 9.1

19.5 / 8.9

Operating Environment

Temperature: 0-40°C – Humidity: 0-90% (non condensing)

Warranty

2 Years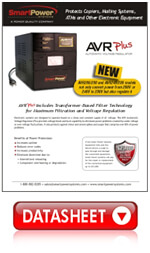 • Different models are available for 15 Amp or 20 Amp
• Specifications subject to change without notice
APPLICATIONS

CONNECTED EQUIPMENT PROTECTION POLICY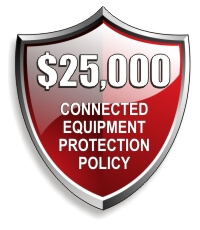 At Smart Power Systems, we stand behind the quality and reliability of our power protection products. That is why we offer comprehensive $25,000 Connected Equipment Protection Policy. If the Smart Power Systems equipment fails and this failure allows a surge to pass through and damage the connected equipment, Smart Power Systems will pay for the repair or replacement of the connected equipment in accordance to Connected Equipment Protection Policy.