The most advanced electronic power conditioner on the market,
at half the price and a quarter of the weight of an isolation transformer
The Mega Conditioner is the latest technology that will replace your isolation transformer and do the same job with more features. It offers ultra power filtration and conditioning of normal and common-mode noise which accounts for 90 percent of power-related problems. Voltage sags and swells can degrade your copier over time; the Mega Conditioner fixes these issues, effectively extending the life of your equipment.
Let's face it, copiers routinely have problems that cannot be solved by a power filter. In these cases, the Mega Conditioner will cut down on unforeseen and inexplicable issues and help copier dealers increase customer retention while reducing the burden on the service department.
"No problem found" service calls could spell ruin for copier dealers. Causing hundreds of hours in downtime, failing to provide adequate equipment protection could damage customer loyalty and have a negative impact upon the business. With constant power conditioning, voltage regulation, and TBF™ technology, Mega Conditioners give copier dealers peace of mind.
Features
• Ultra power conditioning
• Common mode noise filtering: < 0.5 Volts
• Normal mode noise filtering: < 10 Volts
• Voltage regulation
• Over and under voltage protection
• Site wiring fault indicator
Benefits
• Solves problems not solved by power filters
• Increases profitability by reducing service calls
• Increases company credibility and customer retention
• Increases copies between calls
• Reduces error codes
• Reduces component degradation
Specifications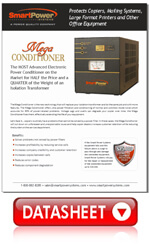 Model: Mega Conditioner
Capacity: 15 or 20 Amps
Input voltage range / 50/60 Hz: 120V±21%
Output voltage regulation: 120V±6%
Over voltage cutoff: 140V
Transient let through voltage (common mode) (N-G): <0.5V
Transient let through voltage (normal mode) (L-N): <10V
Output receptacle: Two 5-15R or 5-15/20R
Input cord: 6 feet
Input plug: 5-15P or 5-20P
Color: Black
Size (H x W x D) (Inches): 13 x 5.5 x 6.6
Net weight (Lbs.): 14.7 (15A), 16.5 (20A)
Warranty: 2 years
• Different models are available for 15 Amp or 20 Amp
• Specifications subject to change without notice
Applications

Connected Equipment Protection Policy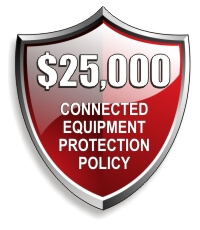 At Smart Power Systems, we stand behind the quality and reliability of our power protection products. That is why we offer comprehensive $25,000 Connected Equipment Protection Policy. If the Smart Power Systems equipment fails and this failure allows a surge to pass through and damage the connected equipment, Smart Power Systems will pay for the repair or replacement of the connected equipment in accordance to our Connected Equipment Protection Policy. Click here for additional details on our Connected Equipment Protection Policy.