Quality Power Filters provide power protection
against the most severe spikes and surges
Quality Power Filters from Smart Power Systems provides surge protection and noise filtration. QPF is the most economic power filter for office equipment including multi-function devices, copiers, printers, and fax machines. It is available in 15 and 20 Amps.
Features
High voltage surge & lightning protection – Stops dangerous surges from damaging multi-functioning copiers, fax machines, and printers
Low voltage spike & noise protection in common mode – Filters down to 3 Volts and stops disruptions of electronics
Detects reverse polarity or no ground (red light)
Benefits
• Reduces downtime and error codes
• Eliminates unnecessary service calls
• Protects telephone/modem/DSL (RJ11)
• Protects networks (RJ45)
• Offers surge protection plus noise filtration
Performance Factors
• Common mode noise filtering
• Normal mode noise filtering
• Faulty wiring detection
• Surge protection
Specifications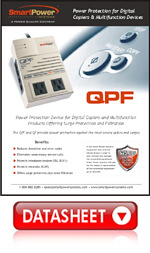 Model: QPF
Input/output: 120V
Output current: 15 Amp
Output receptacle: Two 5-15R
Input cord and plug: 5-15P – 6 Feet
Color: Gray
Transient let through voltage (Common Mode) (N-G): <20V
Transient let through voltage (Normal Mode) (L-N): <20V
Size (H x W x D) (Inches): 6.15 x 4.5 x 1.75
Net weight (Lbs.): 1.80
Warranty: Lifetime
Safety: UL 1449 3rd edition, UL 991, UL1283
• Tested under IEEE C62.41 Cat. A & B Ring waves
• Different models are available for 120V, 208V, 15 Amp, or 20 Amp
• Specifications subject to change without notice
Applications

Connected Equipment Protection Policy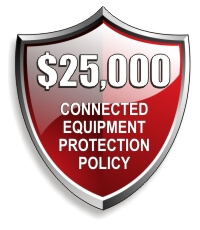 At Smart Power Systems, we stand behind the quality and reliability of our power protection products. That is why we offer comprehensive $25,000 Connected Equipment Protection Policy. If the Smart Power Systems equipment fails and this failure allows a surge to pass through and damage the connected equipment, Smart Power Systems will pay for the repair or replacement of the connected equipment in accordance to our Connected Equipment Protection Policy. Click here for additional details on our Connected Equipment Protection Policy.