Tonya Scanlin
Inside Team Support Specialist / RMA Specialist
Tonya rejoined the Smart Power team in 2016. She has 18 years of experience in sales, customer service, and marketing, along with several years in the POS industry. She takes pride in providing efficient, quick and friendly service, building strong relationships with customers, handling complaints quickly, and responding to customers' issues on time. Tonya knows quality customer service is the best way to keep customers coming back, thus ensuring long-term success.
Contact: 713-464-8000 Ext.224
tscanlin@smartpowersystems.com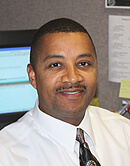 Rob Christian
Dealer & Distributor Account Manager – Point of Sale
Rob joined the Smart Power Systems' sales team in 2010. He has numerous years of experience in the POS industry, including positions such as regional sales manager and director of training. His talent is understanding the customer's needs, and offering them the best solution for their particular situation.
Contact: 713-464-8000 Ext.217
rchristian@smartpowersystems.com


Vincent DeMaio
Inside Support Team Specialist
Vincent provides 15 years of experience with Transformer Based Filter technology and Smart Power Systems product line. He has also accumulated knowledge in electrical maintenance programs for low-voltage systems while supplying thermographic products and predictive monitoring solutions in medium-voltage distribution panels.
Contact: 713-464-8000 Ext.220
vdemaio@smartpowersystems.com