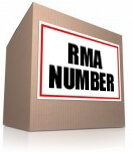 Please fill out the RMA request form below. Once submitted, an RMA number along with instructions on how to ship the unit(s) will be emailed back within 24 hours
You can also reach the RMA Department by calling 800-772-7633.
REMEMBER: Only ship your RMA product using a traceable shipping method. Never ship your Smart Power Systems product without first obtaining an RMA number.