The Venus 2nd Gen UPS provides emergency power in case of power outages and it fully protects your system from destructive high voltage surges and disruptive low voltage spikes
The Venus 2nd Gen UPS, which is an upgrade to the Venus UPS, can do everything its predecessor could, but has some added features as well. Much like Smart Power System's other UPS products, the Venus 2nd Gen has an user-friendly replaceable battery; the battery is hot swappable, meaning it can be replaced without shutting down the system. In addition to its automatic monthly battery test capability, this UPS utilizes upgraded UPSwing software that lets the user know how much backup time the battery can provide during its life time. In the event of a power outage, the user will know exactly how much time is left to shut down the system in an orderly fashion.
The Venus 2nd Gen filters noise that interferes with the network to less than 0.5 volts. It also helps eliminate the need for multiple power protection units by providing 6 receptacles for all POS system equipment, including the terminal, receipt printer, and other POS peripherals.
The latest evolution in the popular series of UPS from Smart Power Systems, the Venus 2nd Gen UPS offers the battery backup capability of a UPS plus the ability to regulate voltage fluctuations (responsible for 10% of all power problems) through an integrated Automatic Voltage Regulator (AVR). It also includes Smart Power Systems' electronic power conditioner (TBF™), which protects against surges and spikes of less than 200 volts (responsible for 87% of all power problems) as well as spikes of over 200 volts (responsible for 2% of all power problems). Together, these features cover almost 100% of all power problems.
Smart Power Systems' UPS, bundled with our connected equipment protection policy, assures the protection of your system. Available in higher VA outputs. Ask your Smart Power Systems representative for additional details.
Features
• Electronic power conditioner (TBF™)
• Smart ground technology; controls ground noise to protect network systems and eliminates ground loop current
• Automatic voltage regulator (AVR)
• Automatic save and shutdown software for unattended computers
• Line interactive design
• Fully digitized microprocessor controlled
• Optional LCD diagnostic display
• Short circuit and overload protection
• USB port
• Tel/modem/internet/DSL (RJ11) and network (RJ45) Protection
• 50/60 Hz auto sensing
• Low battery indicator (audible)
• Cold start (DC power on)
• Easy user replaceable battery
• Programmable battery test
• Two-year equipment warranty
Benefits
• 100% uptime
• Save money on power related service calls
• Improved business productivity
• Equipment operates as intended
• Equipment lasts longer (customer satisfaction)
Specifications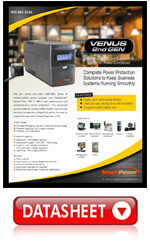 Output capacity VA/W: 400/200 – 800/480
Output voltage (on battery): 120V ±10% 50 or 60 Hz ±0.5%
Transient let through voltage common mode (N-G): <0.5V
Transient let through voltage normal mode (L-N): <10V
Backup time: Half load: 7-14 minutes
Net weight: 11 – 15.5 lbs.
Dimension (DxWxH): 13 x 4 x 5.6
Receptacles: 4-NEMA 5-15R (Battery) + 2-NEMA 5-15R (Filtered)
Safety: cUL, UL
Warranty: 2 years
Applications

Software Included

For Windows ME / XP/ Vista / 7 / 10 / Windows 2000 / 2003 / NT / Server 2008.
UPSwing Pro™ for Linux, SCO Unix, Solaris, FreeBSD and Windows with networking capability is available.
Smart Power Systems provides comprehensive power management software solutions for standalone or networked computers including SNMP support. Our power management software enables users to manage and monitor power quality and usage network wide through a single dashboard interface. Click here to download.
Connected Equipment Protection Policy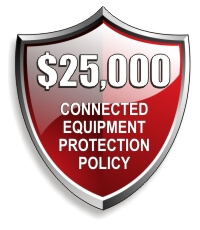 At Smart Power Systems, we stand behind the quality and reliability of our power protection products. That is why we offer comprehensive $25,000 Connected Equipment Protection Policy. If the Smart Power Systems equipment fails and this failure allows a surge to pass through and damage the connected equipment, Smart Power Systems will pay for the repair or replacement of the connected equipment in accordance to our Connected Equipment Protection Policy. Click here for additional details on our Connected Equipment Protection Policy.
Also Available


SBP-TBF – 1000VA-1400VA – UPS With Electronic Power Conditioner TBF™
Complete Protection for Computers, Servers, POS Systems, Telecom, LAN, and Peripherals. It eliminates Line Noise in Addition to Surge Protection and Battery Back-up.