Uninterruptible power supply with automatic
voltage regulator and pure sinewave output
The SSP uninterruptible power supply (UPS) comes with pure sinewave output and is ideally suited for computers, servers, point of sale (POS) systems, telecom, LAN, and other computer peripherals. The SSP-TBF UPS is the first UPS with a Transformer-Based Filter (TBF™), a high-tech electronic power conditioner. It eliminates line noise in addition to providing battery back-up, surge protection, and automatic voltage regulation functionality in one power protection device. It offers automatic save and shut down software for unattended computers and is available in a variety of models to meet your power protection needs.
Features
The SSP-TBF uninterruptible power supply features include:
• Line interactive design
• Pure sine wave output
• Automatic voltage regulator
• Automatic save and shutdown software for unattended computers
• Fully digitized microprocessor controlled
• Short circuit and overload protection
• 50/60 Hz auto sensing
• Replace battery indicator
• Site wiring fault LED display
• Tel/modem/DSL/network (RJ11/RJ45) protection
• USB and smart RS232 communications port
• Hot swappable battery
• User replaceable UPS battery
• Advanced battery management
• Cold start (DC power on)
• Automatically charging when UPS off
• Automatic diagnostic and battery check
• Load/battery power meter display
• SNMP capability
• Up to 6 UPS protected outlets
• EPO (1500-3000VA)
• External battery connector (1500-3000VA)
• Two-year warranty
Smart Power Systems provides a complete line of software solutions for standalone and networked computers, including SNMP support.
Benefits
• Equipment operates as intended
• Equipment lasts longer
• Eliminates "no problem found" service calls
Specifications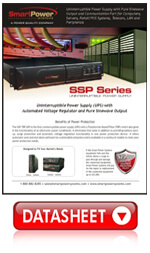 Output capacity VA/W – 1000 / 700
Output capacity VA/W – 1000 / 700
Input/output voltage – 110/120/127VAC or 220/230/240VAC
Backup time (minutes) half load / full load – 20 / 7
Net weight lbs (kgs)
– Tower – 21.1 / 9.6
– Rackmount – 27.2 / 9.6
Dimension in W x H x D:
– Tower – 9.25×3.38×15.07
– Rackmount – 17.25×3.40×15.07
Interface – Dry contact, RS232 (Supports Windows Family, Linux), USB communication port
Plug / Receptaclees – 5-15P / (4)5-15R
Warranty – 2 years
Specifications subject to change without notice
Software Included

For Windows ME / XP/ Vista / 7 / 10 / Windows 2000 / 2003 / NT / Server 2008.
UPSwing Pro™ for Linux, SCO Unix, Solaris, FreeBSD and Windows with networking capability is available.
Smart Power Systems provides comprehensive power management software solutions for standalone or networked computers including SNMP support. Our power management software enables users to manage and monitor power quality and usage network wide through a single dashboard interface. Click here to download.
Connected Equipment Protection Policy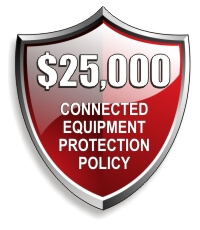 At Smart Power Systems, we stand behind the quality and reliability of our power protection products. That is why we offer comprehensive $25,000 Connected Equipment Protection Policy. If the Smart Power Systems equipment fails and this failure allows a surge to pass through and damage the connected equipment, Smart Power Systems will pay for the repair or replacement of the connected equipment in accordance to our Connected Equipment Protection Policy. Click here for additional details on our Connected Equipment Protection Policy.