A Complete Power Protection Solution Offering Battery Back up,
Surge Protection, and Power Conditioning
The Office-TBF is a multi-device power protection solution ideally suited for computers, computer peripherals, internet, and multimedia applications. The Office-TBF is the first uninterruptible power supply with a Transformer-Based Filter, an electronic power conditioner. It eliminates line noise in addition to providing battery back-up and surge protection functionality that other uninterruptible power supplies offers. The Office-TBF is an ideal choice to meet all your office power protection needs.
Features
Electronic power conditioner (TBF™)
Smart Ground technology (patent pending) controls ground noise to protect network systems and eliminate ground loop current
Automatic save and shutdown software for unattended computers
50/60 Hz frequency auto sensing
Cold start (DC power on)
USB communication port
Network protection RJ45
Short circuit and overload protection
Benefits
• Electronic power conditioner (TBF™)
• Equipment operates as intended
• Equipment last longer
• Eliminates "no problem found" service calls
Specifications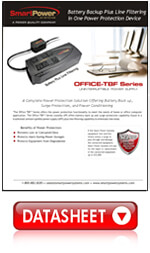 Output capacity VA/W: 400/200 and 600/300
Output voltage: (on battery): 120VAC -20% + 15%
Transient let through voltage common mode (N-G): <0.5V
Transient let through voltage normal mode (L-N): <10V
Backup time: Half load: 9-10 minutes
Net weight: 7.6 – 8.3 Lbs.
Dimension (DxWxH): 11.7 x 5.1 x 3.3
Receptacles: 3-NEMA 5-15R (Battery) + 3-NEMA 5-15R (Double filtered)
Safety: cUL, UL
Warranty: 2 years
Applications

Software Included

For Windows ME / XP/ Vista / 7 / 10 / Windows 2000 / 2003 / NT / Server 2008.
UPSwing Pro™ for Linux, SCO Unix, Solaris, FreeBSD and Windows with networking capability is available.
Smart Power Systems provides comprehensive power management software solutions for standalone or networked computers including SNMP support. Our power management software enables users to manage and monitor power quality and usage network wide through a single dashboard interface. Click here to download.

Connected Equipment Protection Policy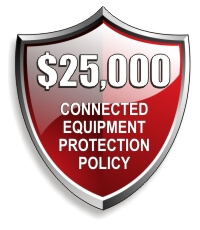 At Smart Power Systems, we stand behind the quality and reliability of our power protection products. That is why we offer comprehensive $25,000 Connected Equipment Protection Policy. If the Smart Power Systems equipment fails and this failure allows a surge to pass through and damage the connected equipment, Smart Power Systems will pay for the repair or replacement of the connected equipment in accordance to our Connected Equipment Protection Policy. Click here for additional details on our Connected Equipment Protection Policy.