Batten down the hatches; weather forecasters are saying that the 2013 Atlantic hurricane season is going to be extremely active. The National Oceanic and Atmospheric Administration is predicting 7 to 11 hurricanes in the next four months and of those, three to six are projected to be major storms.
Hurricane season typically begins June 1 and concludes at the end of November. With the weather report looking ominous and memories of Hurricane Sandy, the superstorm that caused more than $53 billion in damage across 24 states, still fresh in our minds, it's time to take stock and determine if you are ready for this year's hurricane season.
If you look around your office, retail store or restaurant and see that you are woefully unprepared, don't worry–you still have a few weeks to make some changes–hurricane season generally doesn't become very active until mid-August.
First, make sure your employees are ready. Personnel that know how to prepare ahead of a hurricane can help safeguard their companies in the event of a catastrophic event. Backup computer records regularly and store important data in a safe place, preferably out of the building. Generators and uninterruptible power supplies can assist with critical system operations.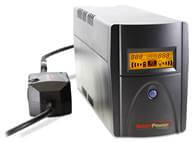 The Venus Uninterruptible Power Supply offers an unrivaled level of defense against most electrical issues that attack point of sale systems, servers and computers, before, during and after a storm. The Venus UPS is equipped with patented Transformer-Based Filtering technology, the most effective solution for power quality issues. A built-in battery backup and automatic voltage regulator prevents sags and swells and eliminates downtime due to intermittent rebooting, error codes and overheating or fried equipment.
Second, make sure your office equipment is ready. Electrical systems are designed to operate based on a clean and constant supply of AC voltage, and storms can wreak havoc on the power grid. Prior to any weather event, put protection in place that will safeguard your technology investment against electrical disruptions like spikes, swells, surges and sags.
When a spike or surge hits your equipment, it disrupts its normal operation and reports error codes, paper jams, and other unexplained issues. Spikes and surges hitting a unit consistently will cost hundreds of dollars for repairs and shorten its usable life.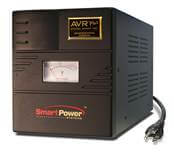 Smart Power Systems' Automatic Voltage Regulators (AVR) provide voltage boost and buck capability to eliminate power problems created by under- or over- voltage fluctuations. It uses TBF™ technology to protect against minor and severe spikes and surges and is ideal for products that require constant voltage levels such as ATMs, wide-format digital copiers and mailing machines.
Hurricanes are just one of the reasons power outages occur. Often, power is restored a few hours later but recently we've seen parts of the country where the power is out for days and even weeks. Hurricanes, thunderstorms, ice storms, fierce winds and extreme heat can damage the power grid and may prolong restoration efforts, so it's best to be prepared.
Smart Power Systems has the patented technology and hardware your organization or business needs to be ready when storms hit. Our knowledgeable sales team can assist you with the electrical solutions needed to safeguard copiers, point-of-sale and security systems, computer networks and sensitive equipment like ATMs.
For more information about how you can get ready for weather events and power outages, please call Smart Power Systems at 1-800-882-8285.