Summer has officially started, which means it's time to think about severe weather. This year's winter was pretty extreme and spring was non-existent for most of the country, so weather-weary residents can now breathe a brief sigh of relief. Although hurricane season started June 1st and will run through October, forecasters are calling for the summer to be relatively calm.
However, it's never too early to be prepared. It's already getting unseasonably warm in some parts of the country, which means it's time to think about lightning.
Severe weather—especially lightning—is quite the hazard for your electronic equipment. Lightning strikes are far more common than you think. It's often said that lightning never strikes the same place twice, but that adage is just a myth. The reality is lightning does strike the same place twice….more often than you think.
According to the website www.stormhighway.com, lightning will strike an office tower that is more than 1,500 feet tall up to six times during the same storm. The Willis Tower in Chicago, formerly known as the Sears Tower, is hit anywhere from 40-90 times per year, while the Empire State Building in New York City averages about 100 strikes. The properties situated around the Empire State Building are lucky because the famous skyscraper also acts as a lightning rod, taking the brunt of the storm in the area.
Each bolt can contain up to a billion volts of electricity and between 10,000 to 200,000 amps, which is enough to power a 100 watt light bulb for three months. That's a lot of energy in one burst. So what happens when it strikes in an area near you?
When lightning strikes near a power line or structure, the energy burst can easily overwhelm most surge protectors and other power protection devices, frying your copiers, computer networks and other pricey electronics.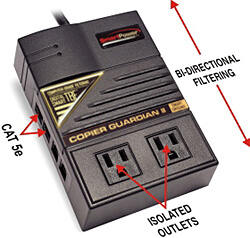 Lightning storms aren't as common as other problems, but at Smart Power Systems, we aren't taking any chances. The Smart Power Copier Guardian II is a complete power filter solution that offers comprehensive power protection for copiers, fax machines, phone systems, and other office equipment.  Smart Power Systems' electronic power conditioners protect copiers during any potential power problems and eliminate spikes, surges and line noise.
Even if your business isn't located in the Willis Tower or the Empire State Building, you should still be protected. Smart Power was recently contacted by one of our resellers, J & S Electric Business Systems, a family-owned, 24-employee Konica Minolta dealer in Iowa, about an experience they had with one of their customers.
A severe lightning storm in Southeastern Iowa had caused downed trees and damaged buildings. A J&S customer in the area found that their phone system and computers were completely destroyed. The storm had done a number on the business–electrical outlets were blown out of the wall, and none of their electric appliances were working.
Amidst the fried electronics was their photocopier, a Konica Minolta C224e MFP, which was plugged into the Smart Power Copier Guardian II.
"The copier powered up fine, and I could fax, scan, print, and copy," the customer said. "With an electrical hit like this, I believe the copier faired very well with the Smart Power line filter."
The effects of a lightning strike on a business can be devastating, so don't leave your property unprotected.
Click here to learn more about the Copier Guardian II, or call (800) 882-8285