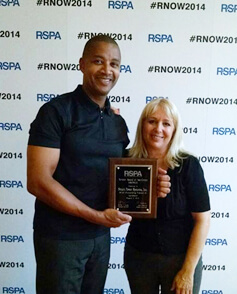 Houston, Texas – August, 13, 2014 – Smart Power Systems, a leading manufacturer of power quality solutions, recently won the Bronze Vendor Award of Excellence as an Outstanding Hardware Manufacturer at the Retail Solutions Provider Association's (RSPA) RetailNOW 2014 convention.
This year's RetailNOW expo was held at the Gaylord Palms Resort & Convention Center in Orlando, Florida, and featured over 270 of the Point of Sale industry's most well-known and respected hardware and software providers.
Smart Power Systems has provided commercial computer grade power protection to hundreds of point of sale dealers with the Smart Cord and Uninterruptable Power Supplies with TBF™ (Transformer Based Filter), which eliminate downtime, protect against degeneration, and reduce unnecessary service calls. Their TBF™ Electronic Power Conditioners, which were on display at RetailNOW, have impressed channel partners and resellers.
"We are honored to be selected by the RSPA membership as a top hardware manufacturer," said Roger Faridi, Vice President of Operations at Smart Power Systems. "This award is acknowledgement of our commitment to product innovation, partner collaboration, and the advancement of our technologies."
RSPA's Vendor Awards of Excellence are the only awards in the retail technology industry where resellers are given the power to vote for their preferred vendors. These awards are prestigious not only because of the RSPA's influence on retail and hospitality, but because vendors are given an honest reading of their business' reputation within the industry.
RSPA's Vendor Excellence Awards also recognized a few of Smart Power Systems' most valued partners. Future POS and Digital Dining won gold and bronze respectively as Outstanding Providers of Software.
To learn more about Smart Power Systems and their products, visit www.smartpowersystems.com.