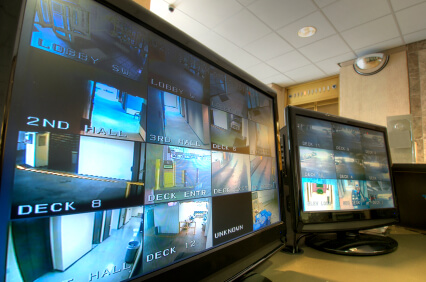 According to Security Products Web Site, "With the increased processing power of today's computers, power outages, surges, and voltage transients on video, data and power lines can render DVRs and security cameras inoperable when they are needed most."
Add that to today's demand on our power grid and you find the common cause for blackouts, brownouts and other power anomalies. Downtime caused by these power irregularities can be very costly. In addition to the obvious loss of security, consider your company's reputation, future sales and employee productivity while bringing these systems back on-line.
Surge protectors are an inexpensive solution should a spike or surge occur. Not protecting security systems from a catastrophic event or disruptive type spike just isn't practical. Common UPS's battery systems can power and protect connected equipment from some of these of power problems; however, they are built to a protection level to satisfy UL classification for clamping at 300 volts. Quality protection products will lower the let-through voltage to 10V from 300V against high voltage surge, such as lightning, and, more importantly to 0.5V from the same 300V on the ground wire, or computer-grade power levels for more protection.
Power protection is needed wherever there are cameras, video recording devices, access control and fire alarms systems. All these mission critical systems play a part in protecting a home, business, commercial and other institutional establishments.
Security cameras and recording devices are critical protection devices in any security system. Without the use of a complete power protection product, these devices become vulnerable to electrical damage or will become inoperable during a power outage. Just like any other electronic device, Network Video Recorders (NVRs) or Digital Video Recorders (DVRs) cannot function without power, and they are also susceptible to all types of power related issues.
When using Power Over Ethernet (POE) cameras, it is also essential to provide protection for the camera power supply, or the power supply and cameras will no longer operate.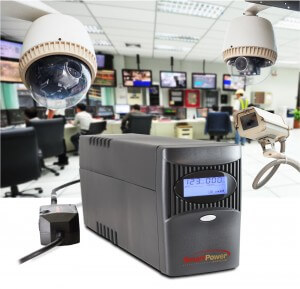 Although an internal battery in an access control device may operate the device for a few minutes, card readers require additional power in order to operate as designed for longer periods. These internal power supplies also do not provide any further protection from all other power anomalies. A comprehensive UPS with additional suppression and filtering capability is the smart choice for access control applications and entire security systems.
Making power protection an integral part of a security system installation and disaster plan is essential. Security systems are designed and installed for protection – not protecting them with proper power protection can challenge any benefit expected from a security system.
Smart Power Systems offers a full line of patented protection products, including UPS's for 100% protection from power anomalies.
Join our growing list of dealers. Give us a call now, and learn how our power conditioning products will protect your equipment's performance. 800-882-8285