"…I learned a hard and expensive personal lesson," he explained. "I'm now protected with Smart Power Systems equipment…"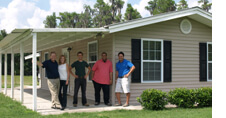 Headquartered in the Tampa Bay area of Florida, NetWorks! Technology Solutions specializes in providing point-of-sale systems and other technology related services to small businesses in the Southeastern United States.
Company owner Guy Fawkes recommends Smart Power Systems products to restaurant and bar owners looking to protect their new and existing equipment from damaging electrical surges, lightning strikes, and faulty site wiring.
Mr. Fawkes is all-too-familiar with the damage that can be done to poorly protected hardware after suffering two lightning strikes and losing all of his personal home theater equipment. He has since replaced the damaged components and added the protection of Smart Power products as a precautionary measure for any future power issues.
"I learned a hard and expensive personal lesson," he explained. "I'm now protected with Smart Power Systems equipment."
Guy Fawkes