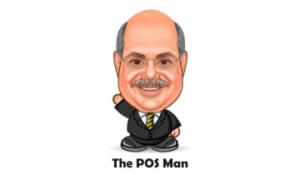 …After spending many years in the industry, Cibley has learned the true value of Smart Power Systems' products. "I am very confident when installing a Smart Power product and know that I can rule out power protection as an issue when someone calls in with a problem," said Cibley….
When Jerry Cibley and his wife were out enjoying a seafood dinner one night, they noticed when the lights went dim at a random moment. A few minutes later, they became bright again. After this went back and forth for about 45 minutes, Cibley questioned the couple that was seated at the table next to them. The gentleman, an employee of the restaurant who was dining there on his night off, said that the light issue was caused by the dishwasher in their kitchen. Since Cibley had sold the restaurant their POS systems about 8 years earlier, he knew he had to talk to the owner.
Cibley, also known as "The POS Man," is an independent consultant for point of sale dealers and manufacturers. "The owner took me back to the kitchen and I showed him the Smart Power Uninterruptible Power Supply we had installed on the server years before," stated Cibley. "These are saving your restaurant from POS downtime, I explained to him." The Smart Power UPS systems that had installed throughout the restaurant were protecting them from dirty and unstable power.
Smart Power Systems offers a variety of different electronic power conditioners to their customers including the Copier Guardian II, POS Guardian, Smart Cord and Computer Guardian. They are used to protect products such as point of sale systems, copiers, office equipment and other microprocessor-based computer equipment against severe power spikes and surges.